Having trouble viewing this email? View it in your browser.

Monnit Wireless Control

Monnit Wireless Control allows a user to control two separate 10-amp or 30-amp power relays, all through the iMonnit online sensors portal. Each of the devices relays can be paired with a wireless sensor or group of wireless sensors to automatically turn electrical devices on or off when a set condition is detected. The user can set the default state of each relay to "on" or "off", then set conditions that will cause the relay to switch.

In addition, the relays can also be directly switched on or off through the online software or mobile apps. These changes can also be defined as temporary, based on a set duration (example: turn the relay on for 10 minutes then switch off).

Monnit Control Features:
• Available with two separate 10-amp or 30-amp relays
• Pairs with Monnit wireless sensors for automatic control
• Relays can be manually toggled through iMonnit online interface
• LED indicators for each relay
• Available in 900, 868 and 433MHz Frequencies
• AC powered


In this issue




Are you interested in learning how the Internet of Things and Monnit Remote Monitoring Solutions can help you manage and protect your business? Download our white papers on Remote Monitoring for Food Safety and Food Services. We will be adding additional whitepapers for other popular applications and industries, so make sure to check back.

Get The White Papers »

"Monnit's wireless sensors have done an outstanding job helping us monitor the temperatures in our store coolers. With their help, we were able to identify and fix several issues we were having. The sensors were easy to install and setup, and Monnit's team has been absolutely amazing to work with!"
– Karen S., Manager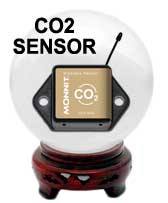 Let's take a look into our crystal ball to see what the future holds at Monnit
We are proud of the relationship we have developed with our customers and partners. These relationships allow us to continually improve our products and services based on our customer's needs. Due to a number of recent requests for a carbon dioxide sensor, the Monnit team has begun development. The new carbon dioxide (CO2) sensor would provide the ability to track and monitor CO2 levels for indoor air quality, greenhouses, landfills and various other applications. If you would like to learn more about the development efforts of our team on this new product or to be notified when it becomes available, please email us at sales@monnit.com.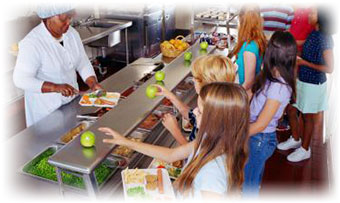 Remotely Monitoring for
School Cafeteria Walk-In Coolers
With schools in session again, it is important to realize how crucial school meals are to students. Children who are hungry have a difficult time focusing in school, which ultimately affects their learning experience. Our schools develop the future of our children, which is why we also depend on them for providing our children with healthy meals. What happens if a school is unable to serve a nutritious meal, or makes children sick from food that has spoiled from improper storage temperatures?

Maintaining an optimal temperature in your walk-in coolers is important for keeping food fresh. If the temperature falls above or below the optimal range, costly spoilage can occur. Monnit has saved schools hundreds of thousands of dollars in spoilage when using our low-cost, wireless temperature sensors to monitor their cafeteria walk-in coolers.
Monnit provides a low-cost, reliable, wireless monitoring solution that allows you to track and receive alerts for the following types of applications:
Temperature Sensors
Monitor food cooler temperatures to prevent spoilage.
Open / Closed Sensors
Detect if cooler doors are left open.
AC Current Meters
Monitor power usage to predict equipment failure in time to repair
Average Cost
$400-$500 for a gateway and 4-6 wireless sensors.
Typical Setup Time
Less than 15 minutes.
Battery Life
Up to 10 years.
Benefit
Knowing instantly about issues with your food coolers.
Protecting your food from spoilage and temperature related issues. Peace of Mind!
All Monnit wireless sensors come with free basic online monitoring, allowing you to view sensor information anytime from anywhere. Receive instant notifications via email, SMS text, or voice call if a set sensor condition is met or exceeded. Local alert can also be used to alert staff on-site.
Protect Your Walk-In Coolers and Contents with Monnit Wireless Sensors!
Learn More About Remote Monitoring Solutions for School Cafeteria Walk-In Coolers »



by The WiSe Guys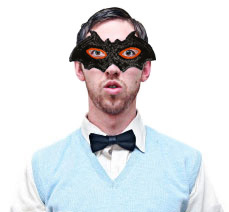 Wireless Sensor Installation for
Cooler Monitoring
This tech-tip is meant to give to give some suggestions for installing wireless sensors for applications involving walk-in coolers or freezers. For product documentation and additional help visit www.monnit.com/support.

Monnit wireless sensors communicate via RF (radio frequency) and it is important to note that the metal construction of most coolers and freezers can interfere with radio signal. It is also important to note that the temperatures inside of coolers and freezers can often be below the recommended operating temperature of the batteries used in Monnit wireless sensors. Due to these facts we recommend installing the wireless sensors outside of the walk-in cooler to ensure proper operation.
Wireless Temperature Sensor Installation

To install wireless temperature sensors, we recommend mounting the sensor just outside the door and running the sensor probe through the door seal or cooler wall. Alternately for temporary use, you can run the probe wire over the door seal but this will not allow for a tight door seal. To install through the seal or cooler wall, start by drilling a hole just larger than the size of the temperature probe in the seal or wall. Push the temperature probe through the hole and use clips or twist ties to secure the probe wire to the interior wall or shelving. When you have the sensor mounted outside and the probe ran to its desired location, use silicone caulking to seal the hole around the wire.

To prevent false notifications in the cooler we also recommend using a capsule containing a substance that will slow the heating and cooling of the temperature probe. This will allow the probe to report temperatures consistent with the contents of the cooler verses any immediate introduction of warm air when the cooler door is opened.




Wireless Door Sensor Installation

To install a wireless open/closed sensor on the door of a walk-in cooler or freezer simply mount the sensor, using the included screws or double sided tape, just above the cooler door. Next you will need to attach the sensing element (screws or double sided tape) to the door frame as close to the door as possible, making sure that it does not interfere with the door opening or closing. With the door closed, attach the magnet to the door directly below the sensing element. The magnet must be within 1 inch of the sensing element in order for it to function properly, so try to keep the magnet as close as possible without interfering with the door opening or closing.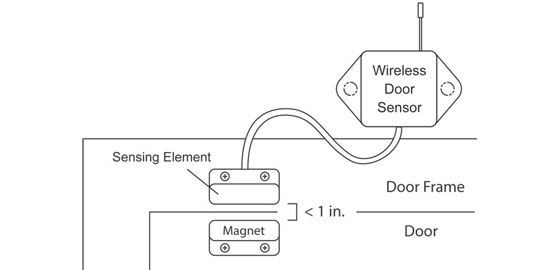 In order to get the best performance out of your Monnit Wireless Sensors, it is important to note proper antenna orientation and sensor positioning. Antennas should all be oriented in the same direction, pointing vertically out of the sensor. If the sensor is mounted flat on its back on a horizontal surface, you should bend the antenna as close to the sensor housing as possible giving you the most amount of antenna pointing vertical. You should make the antenna wire as straight as possible, avoiding any kinks and curving of the wire.



For more information on using Monnit wireless sensors, visit the support section of our website.

All trademarks are property of their respective owners. © 2016 Monnit Corp. All Rights Reserved.
Monnit Corporation / Phone: 801-561-5555 / www.monnit.com