Having trouble viewing this email? View it in your browser.

ALTA Humidity Sensors
Higher Accuracy Measurements


ALTA wireless humidity sensors have been enhanced to provide even higher accuracy. Utilizing new humidity-sensing technology, ALTA wireless humidity sensors are now capable of measuring humidity to +/- 2% under normal conditions (0%-100% RH) and temperature to +/- 0.5°C under normal conditions (0°C-100°C).

Features of ALTA Wireless Humidity Sensors

Scientific-grade sensor
Sensor accuracy

Humidity: +/- 2% under normal conditions (0%-100% RH)
Temperature: +/- 0.5°C under normal conditions (0°C-100°C)

In this issue

Oct 3, 2018 -
Monnit's ALTA Wireless Humidity Sensors Get an Upgrade

Sep 13, 2018 -
Monnit Launches Korean Company to Meet Global IoT Demand

Aug 29, 2018 -
Monnit and Cradlepoint Partner to Deliver Wireless Sensor-to-Cloud Connectivity Solutions for IoT

Jul 26, 2018 -
Monnit Releases New ALTA Smart Thermostat

Jul 5, 2018 -
Monnit Introduces New Family of ALTA Air Sensors

Jul 3, 2018 -
ALTA Industrial Solar Products Feature New Optimizations for Indoor Lighting

Jun 21, 2018 -
Monnit Releases New High Accuracy ALTA 0-200 VDC Wireless Voltage Meter

Jun 6, 2018 -
Monnit Adds Breakthrough Longevity to ALTA IoT Platform

May 2, 2018 -
Monnit Wins 2018 Connected World IoT Innovation Award

Apr 19, 2018 -
Monnit Releases New ALTA Wireless Light Meters

Apr 9, 2018 -
Monnit Named for 4th Year in CRN's Internet of Things 50



Monnit International Expansion

Monnit is proud to announce their International expansion. This past month Monnit announced the launch of Monnit Korea, partnering with SeAnTecs Inc. (seantecs.co.kr), a global real estate management services provider with locations in Seoul and London. The partnership will pair SeAnTecs' significant business experience in the Korean market with Monnit's ten years as an IoT-industry leader.


Asia is the first of several global regions that will soon have local Monnit business representation.

View The Monnit Korea Press Announcement »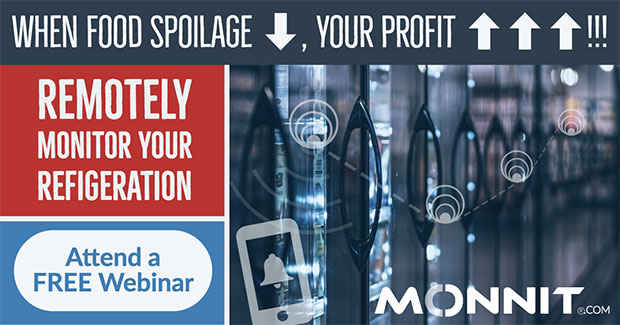 "Exactly what we needed and they didn't break the bank.
Very reliable and the Monnit team is so great to work with!
We'll definitely be a returning customer!"
– Kevin, T., Facilities Administrator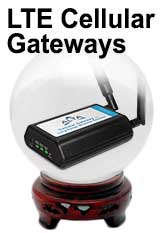 Let's take a look in our crystal ball to see what the future holds at Monnit
Monnit's development team is hard at work developing new products for our customers. Our team is nearing completion of our new LTE Cellular Gateway. The new Cellular Gateway will take advantage of the latest 4G LTE CAT-M1 cellular technology, and will feature a backup battery, allowing your Monnit Wireless Sensors to communicate with the iMonnit system via cellular transmission even through power failures. If you would like to learn more or be notified when these new products become available, please email us at sales@monnit.com.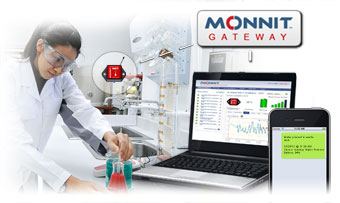 Laboratory Monitoring
Keeping track of laboratory equipment and samples can be a chore. Monitoring for unauthorized access ensures that valuable equipment stays put, and that testing procedures aren't compromised. Maintaining optimal temperature in coolers ensures that samples are stored within regulated parameters. If the temperature moves above or below the optimal range, costly spoilage can occur. Monnit has saved laboratories and pharmacies hundreds of thousands of dollars in spoilage when using our low-cost, wireless monitoring solutions.

Monnit provides a low-cost, reliable, wireless monitoring solution that allows you to track and monitor various "things" within your lab and receive alerts if something needs attention.

Sensors Used
Temperature Sensors
Monitor temperatures in sample coolers and receive alerts if temperatures fall out of optimal range.
Open / Closed Sensors
Get alerted if a sample storage cooler or freezer door is left open or detect unauthorized access to the lab or specific cabinets and areas.
AC Current Meters
Monitor power usage of laboratory coolers and equipment to predict issues before failure—preventing downtime and costly damage.
Average Cost
$500-$600 for a gateway and 4-8 sensors.
Typical Setup Time
Less than 15 minutes.
Battery Life
Up to 5 years.
Cost Savings
Thousands of dollars—by detecting a simple cooler issue.
All Monnit wireless sensors come with free basic online monitoring, allowing you to view sensor information anytime from anywhere. Receive instant notifications via email or SMS text if a set sensor condition is met or exceeded.
Protect Your Laboratory and Samples with Monnit Wireless Sensors!
Learn More About Remote Monitoring Solutions for Labs »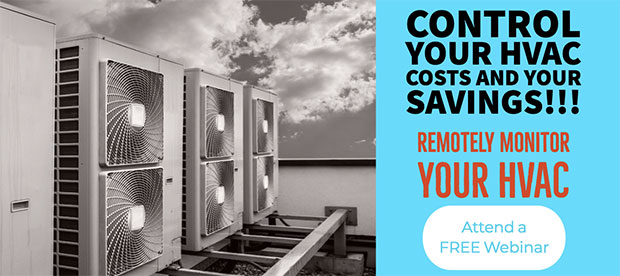 by The WiSe Guys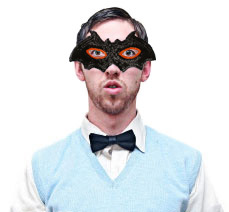 Creating "Events" in the New iMonnit portal
With the recent introduction of the new iMonnit online portal, the "Notifications" section has now been changed to "Events". The reason for this is that the iMonnit system is capable of much more than just notifications when sensors detect certain conditions. This tech tip will guide you through setting up a sensor notification through the new "Events" feature.


Creating an Event

In the left menu, click on "Events", then click on the "Add Event" button.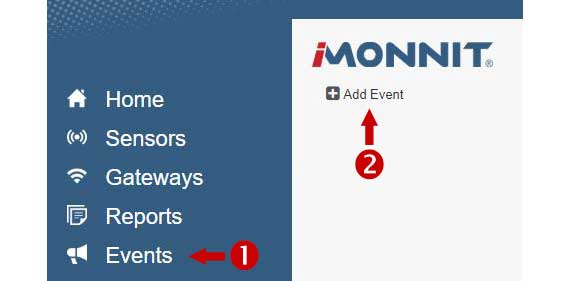 Event Settings
Choose "Sensor Reading" from the Event Type drop-down.
Choose the "Sensor Type" of the sensor which will generate the alert.
Set the conditions that will trigger the event then click save.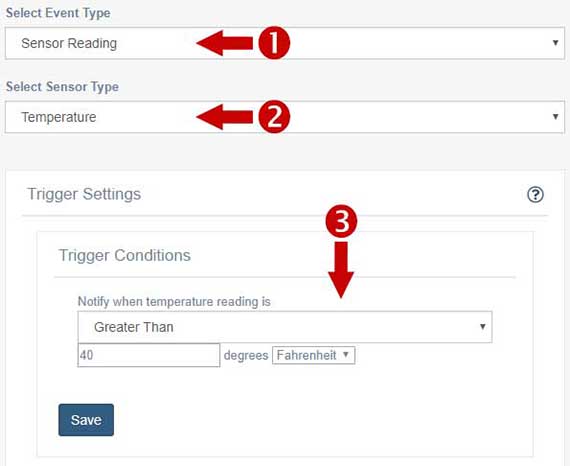 Select Trigger Sensors
The system will populate a list of all sensors that can be used for the current event.
Click on any sensors that should trigger the event (they will change to green if selected).

Create the Action
Click on "Actions" to view actions for the current event.
Click the "Add Action" button, then choose "Send Notification" from the drop-down.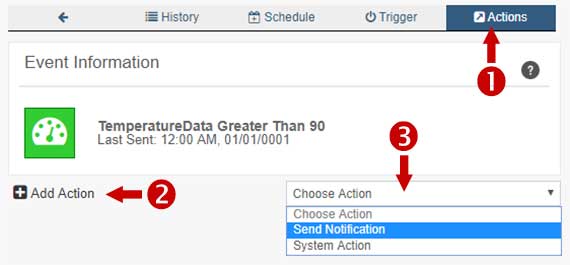 User Notification Settings
The system will populate a list of all users that can be notified.
Click on the email, text or phone call icons to activate them (they will change to green if selected).
When selected, you can choose to apply a delay to the notification if you like. (For example, you can be notified by text message immediately and receive an email 5 minutes later, or have certain people notified before others. If a person acknowledges an alert before the delay period ends, the delayed notifications will not be sent.)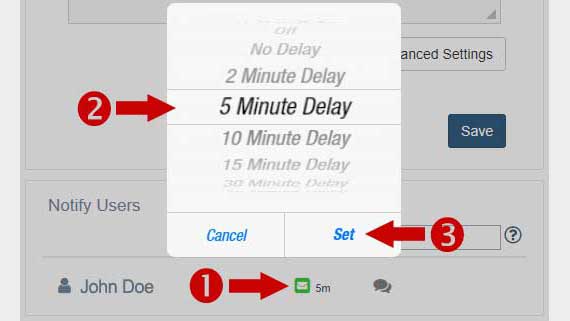 For more information on using Monnit wireless sensors, visit the support section of our website.

All trademarks are property of their respective owners. ©2018 Monnit Corp. All Rights Reserved.
Monnit Corporation / Phone: 801-561-5555 / www.monnit.com