Salt Lake City, UT – October 31, 2017 – Monnit Corporation (www.monnit.com) announced today the release of new, Wireless Water Detection Puck Sensors. The new "puck" type sensor is specifically designed to respond to the increasing demand for a quick and convenient way to monitor for water intrusion in crawl spaces and sub-floor areas, and will be available to order in the next 2-3 weeks.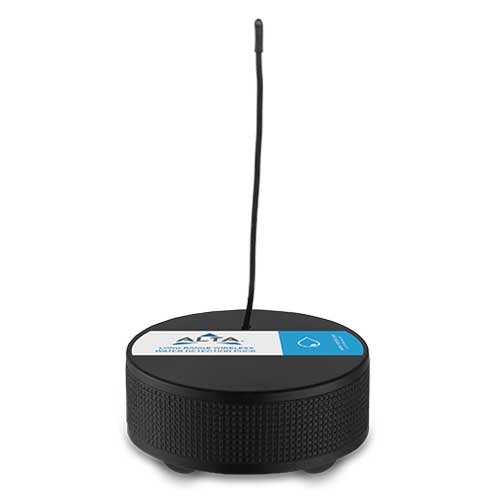 The ALTA Wireless Water Detection Puck Sensor detects when water is present by completing the circuit between the two probe points on the bottom of the puck sensor. The sensor can be set to detect either the presence or non-presence of water. The convenient water tight puck design allows the sensor to be placed anywhere needed whether dry or wet and can be fully submerged in water without damage to the internal electronics.
When water is present, the sensor will immediately transmit the data through an ALTA wireless gateway to the iMonnit Online Sensor Monitoring and Notification System, allowing the user to receive an SMS text, email, and/or phone call to let them know. The data is also stored in the online system and can be reviewed and exported as a data sheet or graph.
ALTA Wireless Water Detection Puck Sensor Features:
Water proof / fully submersible.
Immediately detects presence / non-presence of water.
Free iMonnit basic online wireless sensor monitoring and notification system to configure sensors, view data and set alerts via SMS text and email.
Monnit's ALTA products offer four times the wireless range (1,000+ feet, non-line-of-site) and much stronger battery life than traditional sensors (up to 10 years). ALTA products also use Monnit's new Encrypt-RF™ bank level security, featuring 256-bit exchange and AES-128 CTR for all data messages.
All of Monnit's wireless sensors include free basic iMonnit online sensor monitoring with SMS text and email alerting.  For more information on Monnit's ALTA sensors, gateways and remote monitoring software, call (801) 561-5555 or visit www.monnit.com/alta.
Monnit also provides products to OEM's and Reseller's through the IoTvantage™ business partner program which allows for volume discounts and private branding of both the wireless hardware and online monitoring software. Learn more at www.monnit.com/partner.
Additional Resources:
Facebook: http://www.facebook.com/monnitsensors
Twitter: https://twitter.com/monnitsensors
About Monnit Corp.
Monnit leads the Internet of Things by empowering businesses with easy-to-use, low-cost remote monitoring solutions. Monnit solutions can be used to: remotely monitor a variety of "Things" (i.e. temperature, motion, humidity, vibration, etc.); alerting you via text, email, and/or phone call when something goes wrong. More at www.monnit.com.
PR Contact:
Matt Moulton
801-561-5555
press@monnit.com