Having trouble viewing this email? View it in your browser.

New ALTA Sensors by Monnit

ALTA, industry leading Internet of Things (IoT) remote monitoring solutions were specifically designed to meet higher-demanding enterprise requirements. ALTA wireless sensors are able to communicate readings over eight times the distance of standard sensor platforms while offering significantly longer battery life and introduce Monnit's new Encrypt-RF™ bank level security, making them ideal for an infinitely wide range of sensing and control applications.



In this issue
ALTA - Leading Enterprise Grade "Internet of Things" Solutions

Best in class remote monitoring solutions for business.

Superior Wireless Range

1,000+ ft. non-line-of-sight through 12-14 walls.

Long Battery Life

10+ years powered by 2 AA batteries.

Monnit Encrypt-RF™ Security

Integrated bank level security (256-bit exchange and AES-128 CTR on all messages).

Onboard Data Memory

Store up to 5,000 readings per sensor.

Future Proof

Over-the-air updates allow products to be updated remotely.

FCC / CE Certified Module

Highest performing RF module for OEMs providing diverse enterprise IoT applications.

100% Comprehensive Solution

No additional hardware, software or subscriptions are required. No Monthly Fees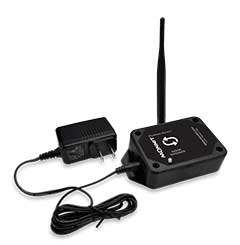 Product Update -
New Wireless Range Extenders
We have recently released an updated version of our wireless range extender.

Monnit wireless range extenders allow you to extend the coverage area of your wireless sensor network by relaying the signals between your wireless sensors and the wireless gateway.

Features:
Extends coverage area of your sensor network
AC powered, so no batteries needed
Supports up to 99 wireless sensors
Stores up to 30,000 messages if needed
FCC, IC and CE certified.



"Having a walk-in refrigerator fail really cost our business. It's not just the cost of repairing the unit, it's all of the food inside. Monnit's wireless sensors were a breeze to install and the monitoring system is top notch. Now I get a text message whenever there's an issue, so we can correct it before it impacts our business. If you run a restaurant, this is a no-brainer purchase!"
– Brian C., Restaurant Manager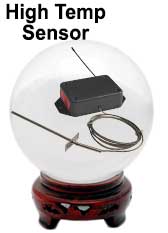 Let's take a look in our crystal ball to see what the future holds at Monnit
Monnit's development team is always hard at work developing new wireless sensing products and enhancing our existing products based on customer feedback. We are currently working on an update to our high temperature sensors that will allow for a higher temperature range. The updated sensor will be able to be used for chimney and flue temperature monitoring. If you would like to learn more about the development efforts of our updated high temperature sensor or be notified when it becomes available, please email us at sales@monnit.com.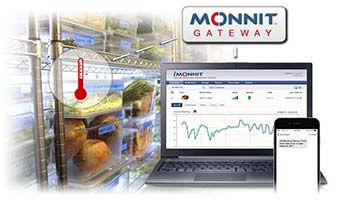 Food Services Monitoring
Maintaining an optimal temperature in your walk-in coolers is important for keeping your food fresh. If the temperature falls above or below the optimal range, costly spoilage can occur. Monnit has saved restaurants, cafeterias, and food distributors hundreds of thousands of dollars in spoilage when using our low-cost, wireless temperature sensors to monitor their walk-in coolers and other appliances.
Monnit provides a low-cost, reliable, wireless monitoring solution that allows you to track and monitor various "Things" within your food service establishment and receive alerts if something needs attention.

Quick Stats:

Sensors Used
Temperature Sensors
Monitor temperatures in walk-in coolers and freezers, and receive alerts if temperatures fall out of optimal range.
Open / Closed Sensors
Get alerted if a cooler or freezer door is left open and/or detect unauthorized or after hours access.
Motion Sensors
Enhance security by monitoring motion near entrances, and more.
Average Cost
$500-$600 for a gateway and 4-8 sensors.
Typical Setup Time
Less than 15 minutes.
Battery Life
Up to 5 years.
Cost Savings
Thousands of dollars by detecting a simple issue.
All Monnit wireless sensors come with free basic online monitoring, allowing you to view sensor information anytime from anywhere. Receive instant notifications via email or SMS text if a set sensor condition is met or exceeded.
Protect Your Restaurant, Cafeteria or Food Distribution Coolers with Monnit Wireless Sensors!
Learn More About Remote Monitoring Solutions for Food Services »



by The WiSe Guys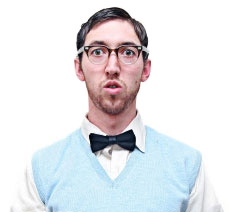 Using Monnit Wireless Sensors to Remotely Monitor Refrigerated Trailers
To get started, we suggest the following devices:

1 - Wireless Gateway
1 - Industrial Wireless Temperature Sensor for Each Trailer

Additional devices to consider:

1 - Industrial Wireless AC Current Meter (150 Amp)
1 - Industrial Wireless Open/Closed Sensor
This tech-tip is meant to give to give some suggestions for installing wireless sensors for applications involving refrigerated trailers. For product documentation and additional help visit www.monnit.com/support.
The Solution at a Glance

Monnit's wireless sensors and remote monitoring solutions can monitor and track temperatures in refrigerated trailers, ensuring that proper temperatures are maintained at all times. Monnit wireless sensors communicate via RF (radio frequency) and it is important to note that the metal construction of most trailers can interfere with radio signal. It is also important to note that the temperatures inside of refrigerated trailers can often be below the recommended operating temperature of the batteries used in Monnit wireless sensors. Due to these facts we recommend installing the wireless sensors on the outside of the trailer on the top or side (close to the top) of the trailer to ensure proper operation. This requires the industrial grade sensors, as they are in NEMA 4X rated enclosures which are weatherproof. If there are no obstructions and the devices are properly installed, the wireless solution should allow for a range of up to 1,000 feet between the sensors and the gateway antenna.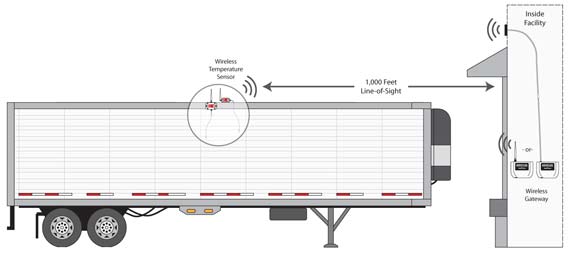 Wireless Temperature Sensor Installation

To install wireless temperature sensors, we recommend mounting the sensor to the roof or high on the side of the trailer to allow for best antenna positioning. To install through the trailer ceiling or wall, start by drilling a hole just larger than the size of the temperature probe and push the temperature probe through the hole. The sensor can then be fixed to the trailer using two sheet metal screws. When you have the sensor mounted outside and the probe ran to its desired location, use silicone caulking to seal the hole around the wire. For best wireless transmission, the antenna should be vertically oriented and visible above the roof line of the trailer.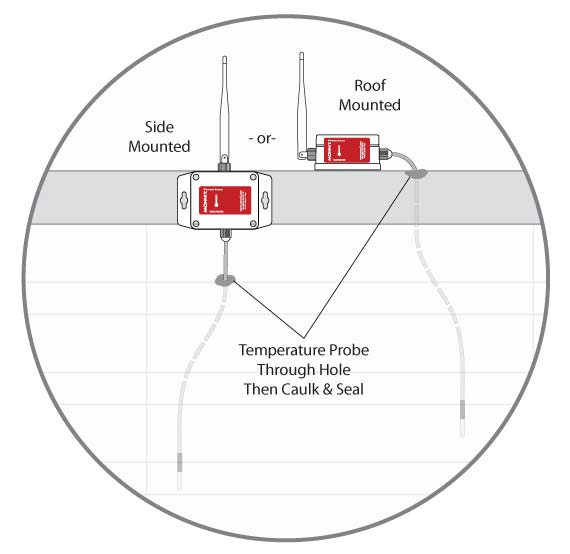 Wireless Gateway Installation

The wireless gateway can be kept inside of the facility with the preferred installation consisting of an outdoor antenna that can be mounted to the exterior of the facility. An antenna extension cable can be used to connect the antenna to the gateway. It is recommended to keep the antenna at a height just above that of the trailer(s) to allow for the best RF signal. If you have multiple trailers to monitor, one wireless gateway will work with up to 100 wireless sensors.


For more information on using Monnit wireless sensors, visit the support section of our website.
All trademarks are property of their respective owners. © 2017 Monnit Corp. All Rights Reserved.
Monnit Corporation / Phone: 801-561-5555 / www.monnit.com