Having trouble viewing this email? View it in your browser.

Monnit Industrial Sensors

Monnit industrial wireless sensors use robust and weatherproof enclosures to ensure that the device can work in the most demanding environments. Whether needed for monitoring outdoor conditions or in dusty manufacturing processes, Monnit industrial sensors combine durability with industry leading power management making them an invaluable tool for industrial applications.

Monnit Industrial Wireless Sensors:
• IP65 NEMA 4X rated.
• Sealed, weatherproof enclosure protects from dust and water.
• External 3dBi RP SMA antenna
• 300 - 350 ft. non-line-of-sight range*
• Up to 5 year battery life.**
(Replaceable, single AA, 2500mAH, 3.6V battery)
• Operating temperature: -40° to 85°C (-40° to 185°F)


Learn More About Monnit Industrial Sensors »

* Actual range may vary depending on environment.
** Battery life is determined by sensor reporting frequency
and other variables.


In this issue

New AC Voltage Detection Sensors

The new Wireless AC Voltage Detection Sensors replace the old 120 VAC and 240 VAC voltage sensors with a single sensor that now ranges from 24 VAC to 500 VAC. These new sensors are perfect for monitoring HVAC systems, sprinkler systems, appliances, sump pumps, pool pumps, electric motors and much more.

The voltage detection sensor can be connected to the positive and ground terminals of an electrical device or power supply line, triggering on the state change from voltage presence to absence and vice versa. The information is sent to the iMonnit Online Sensor Monitoring and Notification System where the data is displayed as either "No Voltage" or "Voltage Detected".

• Wireless interface for detecting
AC voltage.
• Detects voltage up to 500 VAC.
• Free iMonnit basic online
wireless sensor monitoring
and notification system to
configure sensors, view data
and set alerts via SMS text
and email.

The new sensors are available through the Monnit website.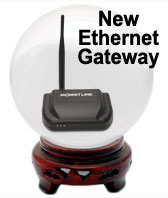 Let's take a look in our crystal ball to see what the future holds at Monnit?
Due to recent requests from our customers, the Monnit development team is working on a new version of our Ethernet gateway. The new gateway has updated encryption between the gateway and iMonnit online servers. It also features an integrated web server for setting configurations for new support of up to 4 MODBUS TCP interfaces and 4 SNMP poll and trap interfaces for those that would like to use the Ethernet Gateway for local data collection. If you would like to learn more about the development efforts of our team on this new product or be notified when it becomes available, please email us at sales@monnit.com.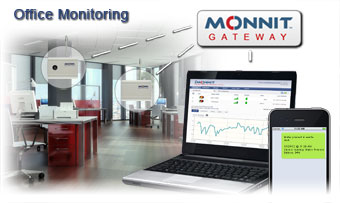 Using Wi-Fi Sensors For Office Monitoring
Managing office and commercial buildings efficiently, yet cost effectively is challenging. Whether it's a large or small office Monnit has a reliable, wireless, remote monitoring solution that can easily work with your companies existing Wi-Fi networks.
Monnit's affordable Wi-Fi sensors can help you monitor various aspects of your office (building) such as;
All Monnit wireless sensors come with Free basic online monitoring, allowing you to view sensor information anytime from anywhere. Receive instant notifications via email or SMS text if a set sensor condition is met or exceeded.
« Learn More About Monnit Wi-Fi Sensor Solutions for Office Monitoring
Ensure that your office building is being maintained properly by using Monnit wireless sensors.


by The WiSe Guys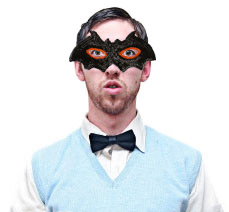 Calibrating Monnit Wireless Sensors
Some Monnit wireless sensors can be calibrated to provide more accurate readings (ex. temperature sensors). This tech tip will demonstrate the process of calibrating a Monnit wireless sensor.

Before you can calibrate your Monnit wireless sensor, it is important to note that you will need to have an accurate source for comparison to the Monnit wireless sensor.

If calibration is possible for a sensor, the "Calibrate" tab will be visible in the detail view. Click the tab to open the sensor calibration settings window.





To calibrate a sensor, you will want to ensure that the environment of the sensor and other calibration device is stable. Note the "Expected Next Check-in" time for the sensor you are calibrating and take a reading from your calibration device a few minutes prior to the sensors next check-in. Enter the actual (accurate) reading from the calibration device into the text field, then click "Calibrate". To ensure that the calibration command is received prior to the sensors next check-in, press the control button on the back of the gateway, once, to force communication (Cellular and Ethernet gateways). If using a USB gateway, open the gateway application on the PC and click the "Send Messages to Server" button.



After pressing the "Calibrate" button and pressing the gateway button, the server will send the command to calibrate the specified sensor to the gateway. When the sensor checks-in, it will send the pre-calibration reading to the gateway, then receive the calibration command and update it's configuration. When the process is completed, it will send a "Calibration Successful" message. The server will display the sensor's last pre-calibrated reading for this check-in, then all future readings from the sensor will be based on the new calibration setting.

It is important to note that after calibrating the sensor, the sensor reading returned to the server is based on pre-calibration settings. The new calibration settings will take affect on the next sensor heartbeat.

For more information on using Monnit wireless sensors, visit the support section of our website.

All trademarks are property of their respective owners. © 2013 Monnit Corp. All Rights Reserved.
Monnit Corporation / ph 801-561-5555 / www.monnit.com