Having trouble viewing this email? View it in your browser.

ALTA - Leading Enterprise Grade
"Internet of Things" Solutions


Best in class remote monitoring solutions for business.

Superior Wireless Range

1,000+ ft. non-line-of-sight through 12-14 walls.

Long Battery Life

10+ years powered by 2 AA batteries.

Monnit Encrypt-RF™ Security

Integrated bank level security (256-bit exchange and AES-128 CTR on all messages).

Future Proof

Over-the-air updates allow products to be updated remotely.

In this issue
ALTA industry leading Internet of Things (IoT) remote monitoring solutions were specifically designed to meet higher-demanding enterprise requirements. ALTA wireless sensors are able to communicate readings over eight times the distance of standard sensor platforms while offering significantly longer battery life. ALTA also uses Monnit's new Encrypt-RF™ bank level security, making them ideal for an infinitely wide range of sensing and control applications.



iMonnit Enterprise Appliance

Note: Sensors sold separately. iMonnit Enterprise Appliance
does not include screen, keyboard or mouse.

Monnit is proud to introduce the iMonnit Enterprise Appliance, a ready-to-use Internet of Things software and database solution that comes pre-installed and pre-configured on an optimized PC. This appliance is for companies who want the added features and benefits of running an on-site, dedicated version of the iMonnit Internet of Things software platform. There is no need for an existing server environment or the hassle of configuring an existing server to work as an optimized IoT system. The solution is specifically designed for companies that do not allow for external data communications due to sensitive information or regulations. An example being national laboratories, where information systems need to remain behind advanced security protocols and firewalls. Coupled with Monnit's award winning ALTA wireless products, the solution provides everything needed to monitor and track business critical processes and environments.

Learn More About The iMonnit Enterprise »

"Monnit's wireless sensors have done an outstanding job helping us monitor the temperatures in our store coolers. With their help, we were able to identify and fix several issues we were having. The sensors were easy to install and setup, and Monnit's team has been absolutely amazing to work with!"
– Karen S., Manager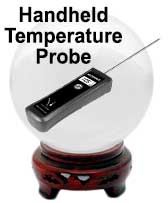 Let's Take a Look into Our Crystal Ball to See What the Future Holds at Monnit
We are proud of the relationship we have developed with our customers and partners. These relationships allow us to continually improve our products and services based on our customer's needs. Due to a number of recent requests, the Monnit team has begun development on a new handheld, food-grade temperature probe. The new handheld temperature probe will provide the ability to take on demand temperature readings with the push of a button, and display the temperature on an LCD screen while simultaneously sending the temperature data to the online monitoring system for tracking and analytics purposes. If you would like to learn more about the development efforts of our team on this new product or to be notified when it becomes available, please email us at sales@monnit.com.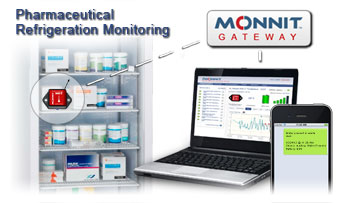 Using Wireless Sensors to Monitor Pharmaceutical Refrigerators

With Monnit wireless sensors you can ensure that medications, vaccines and other pharmaceutical products have been maintained under recommended storage temperatures. It can be expensive if a pharmaceutical refrigerator fails but Monnit provides the solution.
With Monnit Wireless Sensors you can have 24/7 monitoring of your refrigeration units and be notified immediately if there is an issue. The monitoring system will also track temperature data for you and provide a detailed report as well as spreadsheet export functionality. Enjoy the peace of mind that comes from using Monnit wireless sensors to help manage your pharmacy.
Monnit provides a low-cost, reliable, wireless monitoring solution that allows you to track conditions and receive alerts for the following types of applications:
All Monnit wireless sensors come with free basic online monitoring, allowing you to view sensor information anytime from anywhere. Receive instant notifications via email or SMS text if a set sensor condition is met or exceeded.
Ensure your medications and vaccines are stored within regulated temperatures!
Learn More About Pharmaceutical Monitoring Solutions »



by The WiSe Guys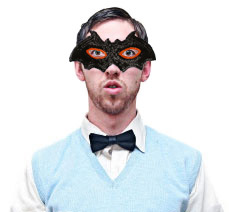 Security in The Internet of Things
As the new industry of IoT emerges, there are budding concerns about the security of these devices and the vulnerabilities of the machines they attach to. Any new industry will have competitors racing to get as much of the market-share as possible, but this rapid development has left consumers wondering what corners were cut. Since there are no industry standards in place right now, there is little resistance to create and sell IoT devices. Anyone can make a sensor, but are they producing a product which is vulnerable to outside hacking attacks too? This is a big concern considering how rapidly the IoT industry is growing. The more devices with little or no security standards being sold to the public only makes it easier for unwanted attacks to occur.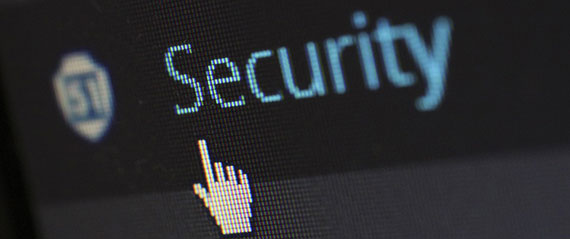 A new bill has recently been proposed to the U.S senate which begins to address some of these security concerns. The Internet of Things (IoT) Cybersecurity Improvement Act of 2017 has 4 basic rules which begin to help regulate IoT vendors and the products they produce. They are:

- IoT devices are patchable
- IoT devices do not contain know vulnerabilities
- IoT devices rely on standard protocols
- IoT devices do not contain hard-coded passwords

While these rules are relatively straight-forward, they are an excellent starting point to begin the conversation about IoT security standards. It is important to follow these 4 general guidelines to ensure the IoT industry does not spin out of control. Just like any new technology, there will be security risks to address upfront, but as time progresses a few companies will emerge to set the industry standard.

Monnit wants to be a part of this industry standard and has already taken steps to ensure our products are some of the most secure sensors and gateways available on the market. Monnit ALTA products are patchable, capable of over-the-air updates which allow for remote software/firmware upgrades. ALTA products currently have no known vulnerabilities, and are ready to adapt to any potential future threats with over-the-air updates. ALTA products have better than standard protocols in place, with Monnit's Encrypt-RF™ security protocol, data is transmitted between wireless sensors and gateways using integrated bank level security (256-bit exchange and AES-128 CTR) on every message. Local sensor network data is communicated to the iMonnit cloud software using SSL encryption with user access to the software requiring a unique ID and password as well.

Monnit doesn't just want to be one of the first companies to hop into the IoT industry, we have been working on our technology platform for some time. Monnit realizes in order to create a sustainable business, there needs to be an emphasis on doing what is right, not what is easy. Our engineering department has been hard at work not only creating extremely secure devices, but doing so in a way which keeps overall costs down. Monnit wants to set the industry standard both in terms of security and price. By taking the time to produce a higher quality product now, we insure our ever-growing customer base remains satisfied both today and well into the future.
For more information on using Monnit wireless sensors, visit the support section of our website.

All trademarks are property of their respective owners. ©2017 Monnit Corp. All Rights Reserved.
Monnit Corporation / Phone: 801-561-5555 / www.monnit.com