Product Description
Monnit wireless temperature sensors use a thermistor to accurately measure temperatures. These sensors are perfect for monitoring ambient temperatures around the sensors physical location. User customization allows you to set the frequency of readings and the ability to set thresholds for alerts via SMS text and/or email.
Industry leading 25 month NIST certified product included on leaded temperature sensors (select a lead length in order to see available certifications).
The Temperature Sensor is not meant for wet, damp, high humidity environments. This sensor should only be operated in dry, low humidity environments. Should you need a temperature sensor that operates at extreme temperatures and can withstand getting wet or condensed on, please consider our industrial sensors.
&nbsp
If ordering NIST certified temperature sensors orders may take up to 6 weeks to ship.
Product Features
Accurate to +/- 1°C (1.8°F).
Available with an external temperature probe.
* Actual range may vary depending on environment.
** Battery life is determined by sensor reporting frequency and other variables.
What does this wireless sensor's data look like in software?
What's in the box?
Wireless Sensor
CR2032 - Coin Cell Battery
Mounting Hardware
Thermistor Specifications

Accuracy @ 25°C
+/- 1% (1° C or 1.8° F)
User Calibrated Accuracy
+/- 0.25° C (± 0.45° F)
Time Constant @ 25°C
15 sec max
Weight
3.6 oz. (3.7 oz w/ 3' probe)
Probe Operating Temperature Range
-40°C to +125°C ( -40°F to +257°F )

Coin Cell Specifications

Battery Type
Replaceable 3.0V Coin Cell Battery
Dimension
1.775 in x 1.04 in x 0.785 in
Max Operating Temperature
-20°C to +60°C (-4° to +140°F)
Optimal Battery Operating Temperature (Coin Cell)
+10°C to +50°C (+50°F to +122°F)
Supply Voltage
2.0 - 3.6 V (Single CR2032 Coin Cell Battery)
Device Range
250 - 300 ft. non-line-of-sight device range*
Battery Life
At 1 hour heartbeat setting, coin cell battery will typically last ~ 1-2 Years. **
Enclosure Technology
Monnit PinchPower™ Wireless Sensor Enclosures
Enclosure Material
ABS

900 MHz Specifications

Operating Frequency
900 MHz Operating Frequency
Certifications
Complies with Part 15 of the FCC Rules. (FCC ID: ZTL-RFSC1)
Complies with Industry Canada standards. (IC: 9794A-RFSC1)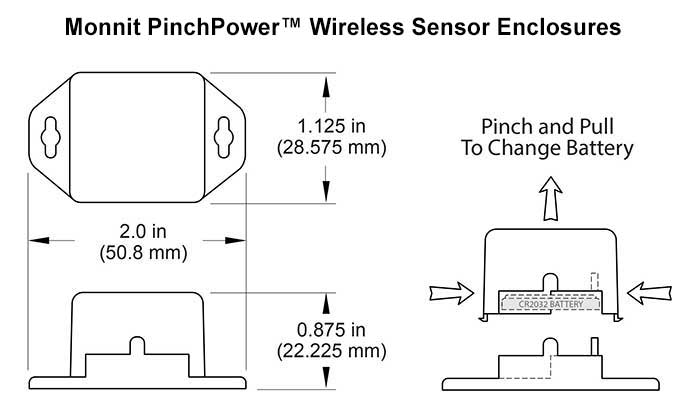 Suggested Application Uses for This Sensor
Warehouse temperature monitoring to avoid frozen fire suppression systems
Monitor vacant commercial property temperatures to avoid frozen pipes
Summer/winter (vacation) property monitoring for frozen pipes or excessive heat
HVAC system monitoring to detect failures or heating / cooling issues
Monitor temperature of K9 units (dog collar's and kennel)
Art gallery temperature monitoring
Heat remediation of bed bugs (extermination)
Freezer and cooler temperature monitoring to detect failure and prevent food spoilage
Server room temperature monitoring
Cadaver storage cooler temperature monitoring
Greenhouse temperature monitoring