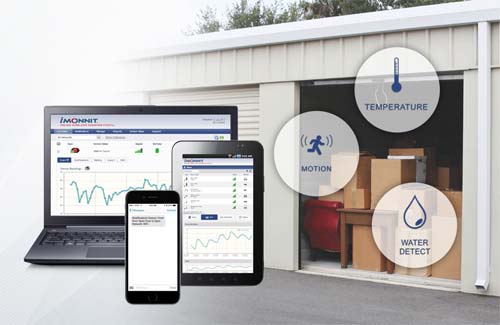 One of the main things people do when shopping for a storage unit is they look for a secure, well-maintained facility. Every successful storage unit owner has common traits that got them ahead in the industry: they notice problems and find ways to resolve them. If you are looking to get ahead in today's highly competitive industry, then you will need to do the same.
Common Self-Storage Problems
Every year, storage unit renters suffer thousands of dollars in losses due to temperature, humidity, theft, and more. When a potential client is assessing their storage unit options, there are only a few factors that go into the decision-making process. The most crucial deciding factor other than price and location is security. According to the Self-Storage Almanac, break-ins or theft in recent years has been as high as 18.2%. In a similar way people use alarm systems and neighborhood watch programs to prevent criminals; you should be proactive about preventing crimes at your self-storage facility.
Another common problem with storage units is high humidity. A relative humidity of 60% or more increases the chance for molds, mildew, mites, rust, paper rot and wood degradation to occur. Many storage facilities rely on air-conditioning units to dry the air. Doing so doesn't always work since high humidity is more likely to transpire at night, while AC units are commonly scheduled to run in the afternoon during high temperatures.
Depending on what renters intend to store, they may also consider a temperature controlled unit. How will you be notified if your AC unit stops working? In the past, these problems were difficult to manage. Thanks to Monnit you can prevent these issues and give yourself and your clients peace of mind.
The Monnit Solution
Monnit enables storage unit owners and renters to monitor and track various conditions of their units. Previously, available solutions were expensive and difficult to use. This has since changed with Monnit's affordable remote monitoring solutions, which makes it easy to monitor multiple aspects of your facilities, from anywhere at any time via computer, smartphone or tablet and receive alerts via text, voice, email, or through a local alert system the moment there is an issue.
"They say you never know when disaster will strike. Well, now we do! Monnit's remote monitoring system is such a valuable tool when it comes to protecting our buildings and everything in them. The installation was quick and easy. Everyone that uses it loves it! You really can't beat the value of this system!"
– Leroy R., Property Management
Strengthening Your Competitive Advantage
Problems from property damage, AC system failure, theft, etc. can not only affect your bottom line but can harm your reputation you worked hard to build. You can save time and money by using a system that automatically monitors your facilities. Monnit's affordable remote monitoring system makes it easy for owners and customers to keep track of their unit from anywhere, at any time via computer, smartphone or tablet and receive alerts via text, voice, email. This allows you to focus on what matters most: growing and improving your business. With a Monnit remote monitoring system in place, you add significant value to your property and ensure peace of mind for your clients, without breaking the bank.
The self-storage unit industry is highly fragmented, so it is important to have a strategic plan to differentiate your businesses from competitors. Remote monitoring systems are still relatively new, so most storage unit managers still don't know about them, or just haven't implemented them yet (primarily because they haven't found a cost-effective solution to meet their needs). As a result, you have the unique opportunity to enhance your competitive advantage and become a leader in your industry.
Monnit Solutions for Self-Storage Units Include:
Here are just a few ways you can monitor your storage units with Monnit Wireless Sensors:
Monitor temperature levels inside units: Monnit Wireless Temperature Sensor »
Detect water leaks or flooding that can lead to costly damages: Monnit Wireless Water Detect Sensor »
Enhance security by monitoring the opening of unit doors and having SMS text notifications sent to the client:
Monnit Wireless Open/Closed Sensor »
Keeping areas illuminated will decrease the potential for crimes: Monnit Wireless Light Detection Sensor »
Start Protecting Your Storage Units
Monnit provides an enormous opportunity to protect your facilities, attract customers, increase profits, and scale your business. Now that you have a better understanding of how you can use Monnit, you can become a more competitive force in today's market.
The Monnit Remote Monitoring System is the most intuitive, reliable, and cost-effective solution on the market.