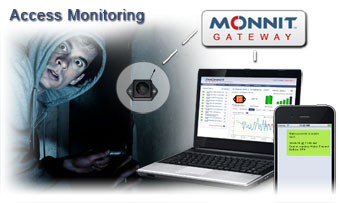 Using Wireless Sensors to Monitor Areas for Access
Whether you are a large business or a small "mom & pop" shop, you want to ensure employee safety, protect your company assets and track access to your building or certain areas within your facility.
Monnit provides a remote monitoring solution for commercial small businesses. Monnit wireless sensor systems can help you detect and track access to buildings, rooms, cabinets and other areas. Sensor alerts can be set to alert during certain hours of the day, allowing you to know immediately of any unauthorized access after business hours. We recommend using Monnit's affordable wireless open/closed sensors to track and monitor the doors and windows to any area you want to remotely monitor for access. We also recommend using Monnit's wireless infrared motions sensors to monitor rooms and open areas for motion/movement of humans or larger animals up to 16 feet away.
Know immediately of any unauthorized access to monitored buildings, rooms, or areas.