Having trouble viewing this email? View it in your browser.

Monnit Industrial Wireless Sensors

Monnit industrial wireless sensors use robust, weatherproof enclosures to ensure that the device can work in the most demanding environments. Whether needed for monitoring outdoor conditions or in dusty manufacturing processes, Monnit industrial sensors combine durability with industry leading power management making them an invaluable tool for outdoor or industrial applications.

Monnit Industrial Wireless Sensors:

Robust and reliable performance
IP65 NEMA 4X rated
Sealed, weatherproof enclosure (protects from dust and water.)
External 3dBi RP SMA antenna
300-350 ft. non-line-of-sight range
(1,000+ ft. with ALTA)
Up to 5 years battery life
(10 years with ALTA)
Encrypt-RF™ security with ALTA products

Learn More About Monnit Industrial Wireless Sensors »




In this issue


Monnit Releases Mine 2.1 – Internet of Things Software Platform Update

Monnit is pleased to announce the release of Mine 2.1, an update to the popular open software platform for connecting Monnit wireless sensors and gateways with 3rd party software systems. The update provides support for Monnit's latest wireless sensors platform, ALTA which features 1,000+ feet, non-line-of-site wireless range, 10+ year battery life with two AA batteries, and Monnit's new Encrypt-RF™ bank level security, featuring 256-bit exchange and AES-128 CTR for all data messages. The update also provides support for .Net and Java frameworks.

Monnit Mine Features:

API in multiple languages for easy integration (.Net/Java)
Can be setup and receiving data in just a few minutes
Built in security with end to end encryption of data
Support Monnit Standard and ALTA Ethernet, Cellular and USB Gateways
Supports Monnit Standard and ALTA Wireless Sensors and Wireless Control
Can implement broad range of sensors into existing monitoring solution instead of having to implement one sensor at a time
Brings true low-cost hardware to existing monitoring infrastructure
Worldwide hardware offering with single software implementation

Learn More About Monnit Mine »
"I am impressed with these wireless sensors! They do exactly what we need them to, and have already saved us from a few issues with our walk-in coolers and freezers."
– Lajuana W., Director of School Nutrition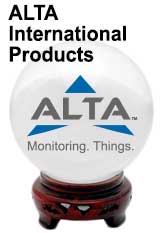 Let's take a look in our crystal ball to see what the future holds at Monnit?
Monnit's development team is always hard at work developing new wireless sensing products and enhancing our existing products based on customer feedback. We have been working on certifying our new ALTA products for use Internationally. When certifications are complete (expected within the month), ALTA products will be available in both 868 MHz and 433 MHz. If you would like to learn more or be notified when International ALTA products become available, please email us at sales@monnit.com.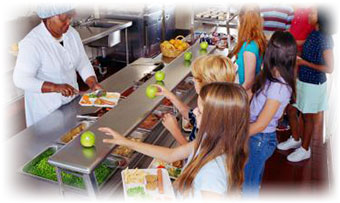 Remote Monitoring for School Cafeterias
With schools in session again, it is important to realize how crucial school meals are to students. Children who are hungry have a difficult time focusing in school, which ultimately affects their learning experience. Our schools develop the future of our children, which is why we also depend on them for providing our children with healthy meals. What happens if a school is unable to serve a nutritious meal, or makes children sick from food that has spoiled from improper storage temperatures?

Maintaining an optimal temperature in your walk-in coolers is important for keeping food fresh. If the temperature falls above or below the optimal range, costly spoilage can occur. Monnit has saved schools hundreds of thousands of dollars in spoilage when using our low-cost, wireless temperature sensors to monitor their cafeteria walk-in coolers.
Monnit provides a low-cost, reliable, wireless monitoring solution that allows you to track and receive alerts for the following types of applications:
Temperature Sensors
Monitor food cooler temperatures to prevent spoilage.
Open / Closed Sensors
Detect if cooler doors are left open.
AC Current Meters
Monitor power usage to predict equipment failure in time to repair
Average Cost
$400-$500 for a gateway and 4-6 wireless sensors.
Typical Setup Time
Less than 15 minutes.
Battery Life
Up to 10 years.
Benefit
Knowing instantly about issues with your food coolers.
Protecting your food from spoilage and temperature related issues. Peace of Mind!
All Monnit wireless sensors come with free basic online monitoring, allowing you to view sensor information anytime from anywhere. Receive instant notifications via email, SMS text, or voice call if a set sensor condition is met or exceeded. Local alert can also be used to alert staff on-site.
Protect Your Walk-In Coolers and Contents with Monnit Wireless Sensors!
Learn More About Remote Monitoring Solutions for School Cafeteria Walk-In Coolers »



by The WiSe Guys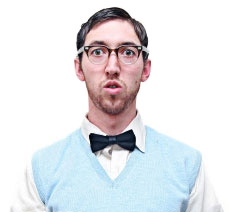 Wireless Sensor Installation for
Cooler Monitoring
This tech-tip is meant to give to give some suggestions for installing wireless sensors for applications involving walk-in coolers or freezers. For product documentation and additional help visit www.monnit.com/support.

Monnit wireless sensors communicate via RF (radio frequency) and it is important to note that the metal construction of most coolers and freezers can interfere with radio signal. It is also important to note that the temperatures inside of coolers and freezers can often be below the recommended operating temperature of the batteries used in Monnit wireless sensors. Due to these facts we recommend installing the wireless sensors outside of the walk-in cooler to ensure proper operation.
Wireless Temperature Sensor Installation

To install wireless temperature sensors, we recommend mounting the sensor just outside the door and running the sensor probe through the door seal or cooler wall. Alternately for temporary use, you can run the probe wire over the door seal but this will not allow for a tight door seal. To install through the seal or cooler wall, start by drilling a hole just larger than the size of the temperature probe in the seal or wall. Push the temperature probe through the hole and use clips or twist ties to secure the probe wire to the interior wall or shelving. When you have the sensor mounted outside and the probe ran to its desired location, use silicone caulking to seal the hole around the wire.

To prevent false notifications in the cooler we also recommend using a capsule containing a substance that will slow the heating and cooling of the temperature probe. This will allow the probe to report temperatures consistent with the contents of the cooler verses any immediate introduction of warm air when the cooler door is opened.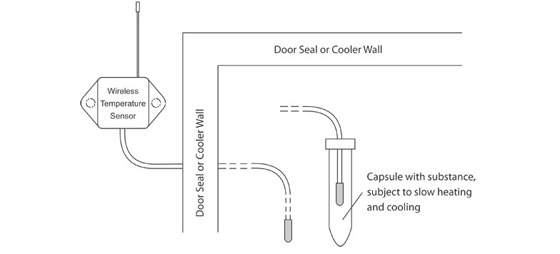 Wireless Door Sensor Installation

To install a wireless open/closed sensor on the door of a walk-in cooler or freezer simply mount the sensor, using the included screws or double-sided tape, just above the cooler door. Next you will need to attach the sensing element (screws or double-sided tape) to the door frame as close to the door as possible, making sure that it does not interfere with the door opening or closing. With the door closed, attach the magnet to the door directly below the sensing element. The magnet must be within 1 inch of the sensing element in order for it to function properly, so try to keep the magnet as close as possible without interfering with the door opening or closing.



In order to get the best performance out of your Monnit Wireless Sensors, it is important to note proper antenna orientation and sensor positioning. Antennas should all be oriented in the same direction, pointing vertically out of the sensor. If the sensor is mounted flat on its back on a horizontal surface, you should bend the antenna as close to the sensor housing as possible giving you the most amount of antenna pointing vertical. You should make the antenna wire as straight as possible, avoiding any kinks and curving of the wire.



For more information on using Monnit wireless sensors, visit the support section of our website.

All trademarks are property of their respective owners. © 2017 Monnit Corp. All Rights Reserved.
Monnit Corporation / Phone: 801-561-5555 / www.monnit.com