Having trouble viewing this email? View it in your browser.

New Industrial Wireless Quad Temperature Sensor!

Monnit's industrial wireless quad temperature sensor uses four individual sensor probes to measure and track temperatures with reliable accuracy. Perfect for monitoring a variety of temperature critical applications such as food coolers, HVAC systems and data centers. User customization allows you to set the frequency of readings and thresholds that will trigger text or email alerts from the system.

Features of Monnit Industrial Wireless Quad Temperature Sensors:
• 4 individual 3 ft. external temperature probes
(temperature probes can be customized to custom lengths)
• Comes standard with high gain puck antenna for
external mounting
• IP66 NEMA 4X, CE rated, sealed, weatherproof enclosure
• FCC, IC and CE certified
• Available in global wireless frequencies (900, 868 and 433 MHz)
• Free and premium online monitoring with alerts via SMS text,
email or voice call

Learn More About Monnit Industrial Quad Temperature Sensors »



In this issue

New Wireless AC Current Meters!

Monnit's new Wireless AC Current Meters measure the RMS current of an alternating current (AC) system by using a current transformer that wraps around the "hot" wire of a two wire (hot, common, ground (optional)) power system. The sensor reports Minimum RMS current, maximum RMS current, average RMS current, and amp hours to the iMonnit system. The iMonnit system is capable of generating watt hour or kilowatt hour readings as well.

Features of Monnit Wireless AC Current Meters:

• Measures amp hours, max RMS current, min RMS current, and
average RMS current.
• 0-20 Amp and 0-150 Amp current transducers available.
• Capable of generating Watt our or Kilowatt Hour readings using iMonnit.
• Data logging for accumulated amp hour readings.
• Can notify based on current levels or changes in current levels.
• Simple and safe installation of current/power measurement hardware,
no rewiring required.
• Free and premium online monitoring with alerts via SMS text,
email or voice call

Learn More About Monnit Wireless Current Meters»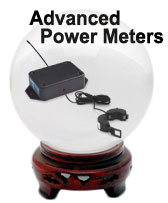 Let's take a look in our crystal ball to see what the future holds at Monnit?
Monnit's development team is always hard at work developing new wireless sensing products and enhancing our existing products based on customer feedback. We are working on development of new wireless advanced power meters to accompany this month's release of our new wireless current meters. The new power meters will offer the ability to measure power usage with several advanced features and provide valuable insight when monitoring the power use of buildings, appliances and other electrical devices. If you would like to learn more about this new product or be notified when it becomes available, please email us at sales@monnit.com.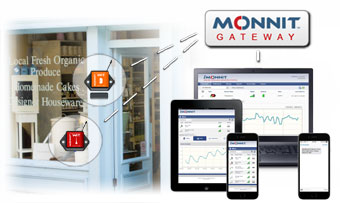 Remote Monitoring Solutions for Small Businesses
No matter the size of your business, it is critical to understand things as they happen! Whether monitoring a refrigerator temperature to avoid food spoilage or monitoring doors and windows for unauthorized access, it is important to know immediately. Monnit wireless sensors provide an easy-to-use, robust, remote monitoring solution that alerts you immediately if something is wrong.
Using Monnit wireless sensors provides peace of mind when it comes to knowing if there are issues at your business. Monnit wireless sensors can help you monitor your business facility, equipment and inventories to help you detect issues before they become serious and costly. We recommend using the following sensors;
All Monnit wireless sensors come with free basic online monitoring, allowing you to view sensor information anytime from anywhere. Receive instant notifications via email or SMS text if a set sensor condition is met or exceeded.
« Learn More About Monnit Remote Monitoring Solutions for Small Businesses
Protect Your Business with Monnit Remote Monitoring Solutions!


by The WiSe Guys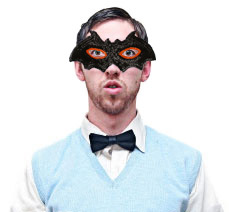 Setting User Permissions in iMonnit Premiere
One of the benefits of using the iMonnit Premiere online sensors monitoring software is that it supports multiple users for your account. How do you manage users if you have multiple sensor networks, or don't want every user to be able to see or edit certain sensors on your account. iMonnit Premiere allows for a variety of permission based settings for each user in your iMonnit account.

To get started you will need to login as the administrator of the iMonnit Premiere account at www.imonnit.com. Once you are logged in, click on the "My Account" link in the upper left hand corner of the screen.





From the Account page, scroll down to the "User's Section". From here you can create, edit or delete users from your iMonnit Premiere account. To create a new user, click on the "Add New User" button located on the right side of the screen. When creating the user, you will have the ability to give the user administrative rights for the account by checking the box at the bottom of the form. You can always customize exactly which permissions the user has later as well.

When you have added the additional user accounts you can customize their permissions by clicking on the users name in the list to view the user's details. From the details view, you have the ability to edit the user's information, contact details and contact preferences for notifications from the system. The last tab allows you to customize the permissions for the selected user.

The "Administration" section allows you to choose what permissions the user has for editing and managing devices and notifications on the account. To allow a permission, check the box next to it.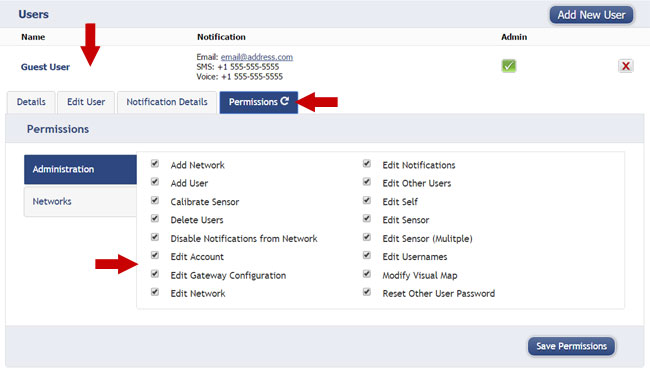 The "Networks" section allows you to choose which sensor networks on the account, the user is allowed to see or manage. To allow the permissions granted in the Administration section for any sensor network, check the box in front of the network name.





When you are finished making any changes to the user's permissions, be sure to click the "Save Permissions" button in the bottom right side of the window.

For more information on using Monnit wireless sensors and other products, visit the knowledgebase in the support section of our website.

All trademarks are property of their respective owners. © 2015 Monnit Corp. All Rights Reserved.
Monnit Corporation / Phone: 801-561-5555 / www.monnit.com