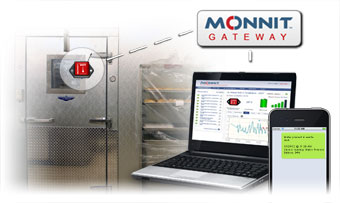 Maintaining an optimal temperature in your walk-in coolers is important for keeping your food or floral products fresh. If the temperature falls above or below the optimal range, costly spoilage can occur. Monnit has saved restaurants, food distributors and florists hundreds of thousands of dollars in spoilage when using our low-cost, wireless temperature sensors to monitor their walk-in coolers.
Using Monnit wireless sensors provides peace of mind when it comes to knowing if your coolers are working properly. We recommend using Monnit's wireless temperature sensors to monitor the operational temperatures of your walk-ins, as well as Monnit's affordable wireless open/closed sensors to alert you if a cooler door has not closed all the way.
Protect Your Walk-In Coolers and Contents with Monnit Wireless Sensors!