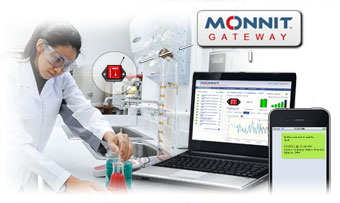 Keeping track of laboratory equipment and samples can be a chore. Monitoring for unauthorized access ensures that valuable equipment stays put, and that testing procedures aren't compromised. Maintaining optimal temperature in coolers ensures that samples are stored within regulated parameters. If the temperature falls above or below the optimal range, costly spoilage can occur. Monnit has saved laboratories and pharmacies hundreds of thousands of dollars in spoilage when using our low-cost, wireless monitoring solutions.Monnit provides a low-cost, reliable, wireless monitoring solution that allows you to track and receive alerts for the following types of applications:
Temperature Sensors
Monitor temperatures in sample coolers and receive notifications if below or above a set threshold.
Open / Closed Sensors
Detect unauthorized access to lab and/or specific cabinets and areas.
All Monnit wireless sensors come with free basic online monitoring, allowing you to view sensor information anytime from anywhere. Receive instant notifications via email or SMS text if a set sensor condition is met or exceeded.
Protect Your Laboratory with Monnit Wireless Sensors!