Having trouble viewing this email? View it in your browser.

Monnit Celebrated as
Internet of Things 50 by CRN

For the third consecutive year, CRN has named Monnit to its 2017 Internet of Things 50 list, which recognizes companies whose innovative offerings are helping connect objects, computing devices, infrastructure, data storage and data analytics that will transform our everyday lives. Monnit was recognized in the "15 Coolest IoT Hardware Companies" category, which consists of other technology leaders such as Cisco, Dell, Intel and Samsung.

CRN recognized Monnit for its new IoTvantage™ partner program and ALTA® product line which offer four times the wireless range (1,000+ feet, non-line-of-site) and much stronger battery life than traditional sensors (10+ years on two AA batteries). ALTA products also use Monnit's new Encrypt-RF™, a bank level security, featuring 256-bit exchange and AES-128 CTR for all data messages. Monnit currently provides more than 50 unique sensor types for commercial and industrial applications as part of a complete, remote monitoring solution, which features online monitoring software and real-time alerts via SMS text, email or phone call when a user-defined condition is detected.

Read the full news release »



In this issue



New ALTA Ultrasonic Sensors

Monnit is excited to introduce new ALTA Ultrasonic Sensors. Monnit's ultrasonic sensors can be used in a variety of applications for measuring distances between the sensor and objects in its path. ALTA ultrasonic sensors are imperviousness to target surface and color, and feature autocalibration algorithms which allow them to adapt to variable environmental conditions and compensate for temperature and humidity effects. The ultrasonic sensors can also be calibrated through the iMonnit software for greater accuracy in distance measurements.

Typical applications include; liquid level detection, object/vehicle detection, inventory status, and much more. ALTA ultrasonic sensors are ready-to-use, easy to maintain, and designed to provide you highly reliable and fast measurements for both indoor and outdoor applications.

Learn More About ALTA Ultrasonic Sensors »

"It's wonderful to be able to know about issues before they become big problems! Monnit's remote monitoring system and sensors provide a value far beyond their cost. The sensors were very easy to install and setup, and Monnit's team has been absolutely amazing to work with!"
– Rachel S., Store Owner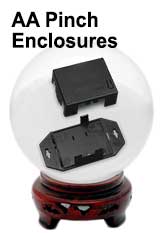 Let's take a look into our crystal ball to see what the future holds at Monnit
Monnit's development team is always hard at work developing new wireless sensing products and enhancing our existing products based on customer feedback. We are currently working on new enclosures for our commercial AA battery powered sensors. Even though batteries only need to be changed once every 8-10 years, we feel that the process should be as quick and easy as possible.The new enclosures will feature Monnit's new PinchPower™ technology, allowing for quick and convenient access for replacing the batteries. If you would like to learn more about the development efforts of our thermocouple sensor or be notified when it becomes available, please email us at sales@monnit.com.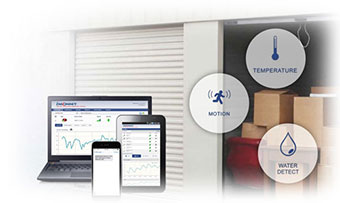 Remote Monitoring Solutions for Off-Site Storage
When storing valuables in off-site storage, you want to make sure they are safe. Problems that arise from theft and water or temperature damage can be costly. Monnit provides low-cost sensors and monitoring solutions that can detect when a storage unit door is opened. It can also detect the presence of water, motion, and monitor temperature and humidity levels. Get real-time alerts as something is happening, and protect your valuable property.

Monnit remote monitoring solutions help protect your off-site storage by placing affordable wireless temperature sensors in strategic locations to monitor temperatures and alert you if they fall below, or rise above a safe levels. Wireless water detection sensors let you know immediately if there is water intruding into your storage space.

You can also detect movement if someone enters your storage unit(s) by using wireless motion detection sensors. Wireless open/closed sensors can also detect if a storage unit door has been opened. There are no wires to worry about and setup is simple and quick. You can monitor everything, from anywhere via any Internet-enabled computer, tablet or smart phone.

Quick Stats:

Stop Worrying About Your Valuables in Off-Site Storage.
Learn More About Remote Monitoring Solutions for Off-Site Storage »



by The WiSe Guys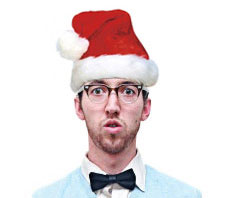 Using Monnit Wireless Sensors to Remotely Monitor Boiler Systems
With the change in seasons we sometimes see fluctuations in our heating or cooling needs. Whether you are located in Florida where they are currently seeing record highs in the 90's or Oregon where the weather is in the mid 10's it is important to keep track of your heating and cooling systems to make sure they are performing as needed. Monnit provides an easy to use remote monitoring solution to track heating and cooling systems for efficiency and preventive maintenance.

To get started, we suggest purchasing a Monnit HVAC Monitoring starter bundle as it will include all the devices needed to remotely monitor one HVAC or boiler system. Bundles can be purchased here. Alternately you can purchase the devices separately if you wish to use a different gateway or coin cell version of some sensors for the indoor portion of the installation.

The devices we recommend are:
1 - Wireless Gateway
1 - Industrial Wireless Quad Temperature Sensor
1 - Industrial Wireless AC Current Meter (150 Amp)
1 - Wireless Duct Temperature Sensor
1 - Wireless Temperature Sensor (with Probe)

Boiler System Installation

Before starting any part of this installation process, shut the power off to boiler system. Start by installing a Monnit wireless gateway. The gateway can be located anywhere in the building where it has access to power and a decent cellular signal (for Cellular gateways) or access to an internet router (Ethernet gateways) or PC (USB gateways).

We recommend using a Monnit industrial wireless quad temperature sensor which has 4 independent temperature probes that can monitor and collect temperature readings for key areas of the boiler system. Each temperature probe is labelled 1 through 4, these can be renamed in the software after initial installation.

Start by connecting each of the temperature probes to the pipes feeding the radiators making note of which probe you are connecting to each. Depending on the number of zones you have you may want to add additional sensors if you would like to track them all. Alternately if you have fewer zones, you can also track the radiant return line or ambient temperature near the boiler. When connecting a temperature probe to any of the boiler pipes, we recommend using a zip tie to securely fasten the probe tight against the bare metal pipe. After securing the temperature probe use thermal tape to completely wrap the probe to the pipe to provide a thermal barrier allowing the sensor to get a more accurate reading of the pipe temperatures. We also recommend using a wireless duct temperature sensor or a wireless temperature sensor (with probe) to monitor the outside ambient air.

The Monnit industrial wireless AC current meter (150 Amp) can be used to track the current draw of the boiler pump. The AC current meter uses a clip-on current transformer that should be clamped around the "hot" power wire feeding the boiler pump. Excessive current draw by the pump can signify that the pump is beginning to fail and should be checked and/or serviced.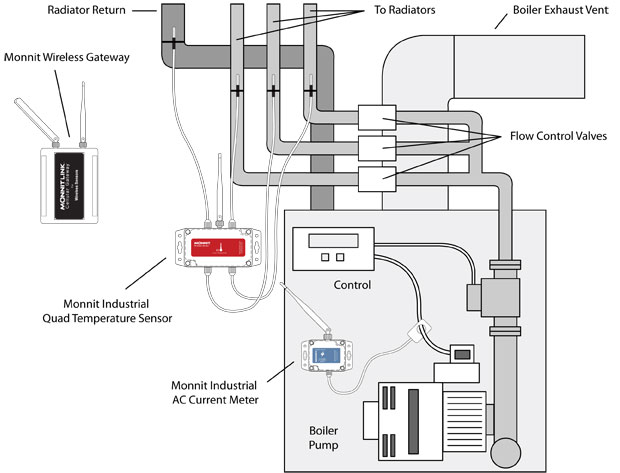 View instructions for installing Monnit remote monitoring solutions for HVAC systems here »

For more information on using Monnit wireless sensors, visit the support section of our website.

All trademarks are property of Monnit. © 2017 Monnit Corp. All Rights Reserved.
Monnit Corporation / Phone: 801-561-5555 / www.monnit.com