Adding Gateways or Sensors to Your iMonnit® Account
Keywords: add gateway, add gateways, add sensor, add sensors, move gateways, move sensors, manage sensor networks, connecting, wireless sensors, Internet, iMonnit software,
---
Summary:
This article explains how Monnit® sensors connect to the Internet using iMonnit® software, and the process for adding wireless gateways or sensors to your iMonnit® account.
---
Common Questions


How do my wireless sensors connect to the monitoring software on the internet?
With the exception of Wi-Fi sensors, which connect driectly to your Internet router, each Monnit® wireless sensor comes ready to connect to the MonnitLink™ Wireless Gateway upon power up.

If you're using a USB Gateway, make sure that the USB Driver has been installed and the Monnit® Gateway Software is installed and running, then simply insert the USB gateway into the PC. Once the gateway establishes a connection with the iMonnit™ online wireless sensor monitoring system and communicates with the Monnit servers, simply insert the batteries into their holder on each sensor. The sensor will power up and connect to the wireless gateway and communicate with iMonnit™, assigning each sensor its own unique id number.
Can I add additional sensors to the wireless sensor network at a later time?
A: Yes. You may expand your network as needed, up to 100 sensors per wireless gateway. You can add an unlimited number of wireless gateways, so you are not limited to the amount of wireless sensors you can have on your account.
If this is your first time setting up an iMonnit account, the system will walk you through creating your account and adding wireless gateways and sensors. To get started, go to www.imonnit.com

Follow the on-screen instructions to enter your account and contact information.
You will be prompted to create your first sensor network. Simply enter a name for your network.
Next you will be prompted to add a wireless gateway and wireless sensors to your network.
Enter the information from your MonnitLink™ gateway then click the "Assign Gateway" button.

Enter the information from your first wireless sensor then click the "Assign Sensor" button.

On the next screen, enter a name for the wireless sensor and use the drop down to tell us how you are going to be using the wireless sensor. (This allows us to suggest settings for your sensor.) When finished, click the "Continue" button.
Repeat these steps to add any additional wireless sensors to your network.
---
If you have already setup your account and sensor networks and want to add additional gateways or sensors, click on the "Manage" link in the navigation bar.
This will bring you to a sensor network view, showing you the devices that are already on your network. You can click on the "Add Gateway" or "Add Sensor" buttons on the right side of the screen to add more devices.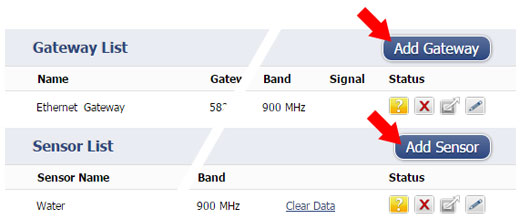 You can also remove sensors from your account and edit their settings from this page as well. If you are using iMonnit Premiere®, you will also have the ability to add more sensor networks to your account from this page. If you have more than one sensor network created you can move a device to another network by clicking the "Move" button.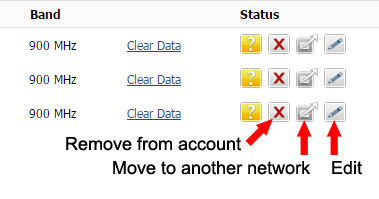 ---
---