Description
The Monnit Power-over-Ethernet (PoE) Water Rope Sensor detects conductive liquids anywhere along the length of the detection rope by using two wires covered with conducting polymer. When water or conductive liquid contacts the rope, the sensor will immediately transmit data to iMonnit. The sensor rope dries quickly allowing the sensor to reset for next use. The detection rope can be expanded up to 100 feet by simply clicking an additional 10-foot sections of detection rope together. Additional sections of water detection rope are available on the Monnit website. The Power-over-Ethernet (PoE) Sensor products measure various conditions (environmental, power, access). All devices come with flexible settings — including notifications, alerts, reports, and maps — can be customized in the iMonnit online sensor management interface.
Features
Senses immediate presence of water anywhere along rope.
10 foot water rope (expandable in 10 foot sections up to 100 feet).
Data Snapshot
In the Box
10 Ft. Water Detection Rope
Water Detect Rope Specifications

Material
PE + alloy lead
Weight
6.38 oz
Pull Force Limit
60 kg
Fire Resistance
Second pressure plenum cable
Cable Diameter
5.5 mm
Core Resistance
3 ohm/100 meters
Maximum Exposed Temperature
75°C (167°F)
Cable Length
10 ft. (120 in.) included (expandable to 100 ft.)

Variation Specifications

Hardware
10 / 100 Ethernet Controller
Operation
Full- and Half-Duplex
Cross-Over Correction
Automatic MDI / MDI-X
Protocols Supported
DHCP, DNS, NTP, UDP, TCP, SNMP, Modbus TCP
Cable Connector
RJ45
Device Memory
Up to 50,000 sensor messages; varies based on sensor type. (Sensor messages will be stored in the event of Internet outage and transferred when connection is restored.)
Operating Temperature
-20 to +60°C (-4 to 140°F)
Storage Temperature:
-40 to +85°C (-40 to 185°F)
Input Power
Supplementary Power Requirement
IEEE Standard Compliance
802.3AF-2003 / 802.3AT-2009 Class 1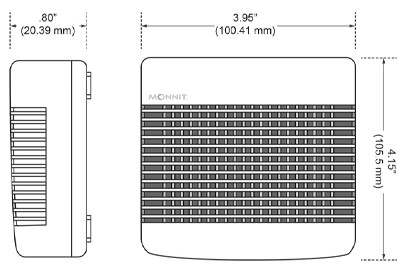 Suggested Application Uses for This Sensor
Data center and server room water monitoring.
Document retention center monitoring.
Basement / crawl space water monitoring.
Plumbing leak detection.
Storage monitoring.