Product Description
Monnit wireless grains per pound sensors measure the mass in grains of H2O in otherwise dry air. Put simplistically, the measurement is the weight of water in air. This sensor uses a calibrated humidity sensor to obtain the absolute humidity at the current temperature and converts that value into the Grains per Pound measurement displayed. User customization allows you to set the frequency of readings and the ability to set conditions for alerts by SMS text, email or voice call.
&nbsp

Product Features
Scientific grade sensor.
Measures the weight of water in air.
* Actual range may vary depending on environment.
** Battery life is determined by sensor reporting frequency and other variables.
What does this wireless sensor's data look like in software?
What's in the box?
Wireless Sensor
CR2032 - Coin Cell Battery
Mounting Hardware
Grains Per Pound Sensor Specifications

Accuracy
± 1.8% under normal conditions ( 10% - 90% RH )
RH Operating Range
0 – 100% RH
RH Operating Range
8 sec (tau 63%)
Weight
3.7 oz.

Coin Cell Specifications

Battery Type
Replaceable 3.0V Coin Cell Battery
Dimension
1.775 in x 1.04 in x 0.785 in
Max Operating Temperature
-20°C to +60°C (-4° to +140°F)
Optimal Battery Operating Temperature (Coin Cell)
+10°C to +50°C (+50°F to +122°F)
Supply Voltage
2.0 - 3.6 V (Single CR2032 Coin Cell Battery)
Device Range
250 - 300 ft. non-line-of-sight device range*
Battery Life
At 1 hour heartbeat setting, coin cell battery will typically last ~ 1-2 Years. **
Enclosure Technology
Monnit PinchPower™ Wireless Sensor Enclosures
Enclosure Material
ABS

900 MHz Specifications

Operating Frequency
900 MHz Operating Frequency
Certifications
Complies with Part 15 of the FCC Rules. (FCC ID: ZTL-RFSC1)
Complies with Industry Canada standards. (IC: 9794A-RFSC1)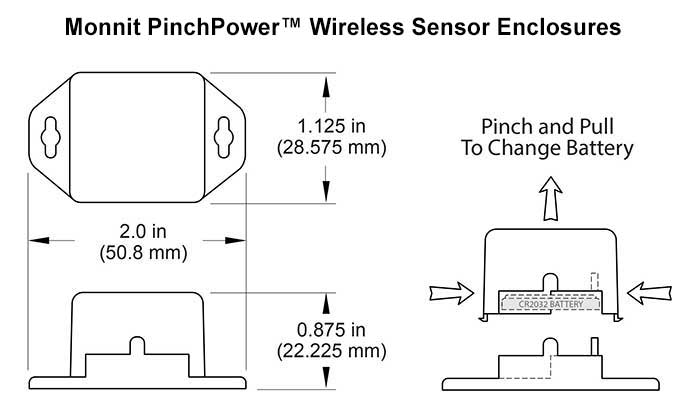 Suggested Application Uses for This Sensor
Greenhouse temperature and humidity monitoring
Agriculture environmental monitoring