Product Description
Monnit wireless light detection sensors can be used to detect whether light is present or not. The sensors can be user calibrated for baselines of light and dark, and will provide a status of light presence based on those baselines. Alerts can then be setup for when light has been detected or when there is no light detected.
Product Features
Sense the presence of light.
Know if the lights have been left on at your facility.
Know when light bulbs have blown and need to be replaced.
* Actual range may vary depending on environment.
** Battery life is determined by sensor reporting frequency and other variables.
What does this wireless sensor's data look like in software?
What's in the box?
Wireless Sensor
CR2032 - Coin Cell Battery
Mounting Hardware
Phototransistor Specifications

Angle of Half Sensitivity
? = ± 50°
Maximum Light Current
0 - 1,000 Lux
Weight
3.7 oz.

Coin Cell Specifications

Battery Type
Replaceable 3.0V Coin Cell Battery
Dimension
1.775 in x 1.04 in x 0.785 in
Max Operating Temperature
-20°C to +60°C (-4° to +140°F)
Optimal Battery Operating Temperature (Coin Cell)
+10°C to +50°C (+50°F to +122°F)
Supply Voltage
2.0 - 3.6 V (Single CR2032 Coin Cell Battery)
Device Range
250 - 300 ft. non-line-of-sight device range*
Battery Life
At 1 hour heartbeat setting, coin cell battery will typically last ~ 1-2 Years. **
Enclosure Technology
Monnit PinchPower™ Wireless Sensor Enclosures
Enclosure Material
ABS

900 MHz Specifications

Operating Frequency
900 MHz Operating Frequency
Certifications
Complies with Part 15 of the FCC Rules. (FCC ID: ZTL-RFSC1)
Complies with Industry Canada standards. (IC: 9794A-RFSC1)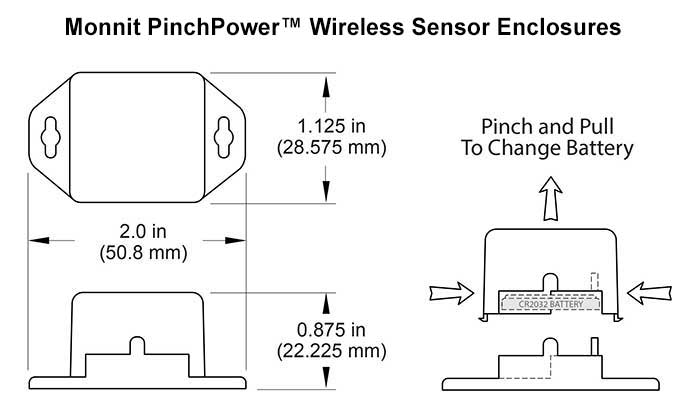 Suggested Application Uses for This Sensor
Commercial property light and electricity management
Monitor apartment property common area lights
Monitor for blown lights in parking lots or garages lights
Monitor for blown lights on walkways or public areas