Product Description
Monnit wireless 0-20mA current meters are capable of measuring the current off another device or sensor, up to 20mA (DC), by connecting the leads of the sensor to the positive and ground terminals of the device being measured. Examples of interfacing devices include, but are not limited to: Current transducers (CTs) with outputs up to 20 mA, pH sensor, dissolved oxygen sensor, pressure sensor, magnetic flow meters, velocity or acceleration sensors, industrial vibration sensors, industrial accelerometers, any kind of sensor that specifies the output is in (mA) within the range of 0 – 20.
Notes:
&nbsp
WARNING
: Use caution when interfacing to the Monnit 0-20mA Current meter.
Negative voltages
, any kind of
AC Voltages, or DC Voltage exceeding 3.6V
WILL DAMAGE
the electronics of the wireless sensor. Monnit is not responsible for troubleshooting, replacing or reimbursing damages incurred by disregarding this warning.
Product Features
Interfaces with sensors between 0-20 mA.
* Actual range may vary depending on environment.
** Battery life is determined by sensor reporting frequency and other variables.
What does this wireless sensor's data look like in software?
What's in the box?
Wireless Sensor
CR2032 - Coin Cell Battery
Mounting Hardware
0-20 mA Current Meter Specifications

Maximum Rated Input Voltage
Up to 20 mA

Coin Cell Specifications

Battery Type
Replaceable 3.0V Coin Cell Battery
Dimension
1.775 in x 1.04 in x 0.785 in
Max Operating Temperature
-20°C to +60°C (-4° to +140°F)
Optimal Battery Operating Temperature (Coin Cell)
+10°C to +50°C (+50°F to +122°F)
Supply Voltage
2.0 - 3.6 V (Single CR2032 Coin Cell Battery)
Device Range
250 - 300 ft. non-line-of-sight device range*
Battery Life
At 1 hour heartbeat setting, coin cell battery will typically last ~ 1-2 Years. **
Enclosure Technology
Monnit PinchPower™ Wireless Sensor Enclosures
Enclosure Material
ABS

900 MHz Specifications

Operating Frequency
900 MHz Operating Frequency
Certifications
Complies with Part 15 of the FCC Rules. (FCC ID: ZTL-RFSC1)
Complies with Industry Canada standards. (IC: 9794A-RFSC1)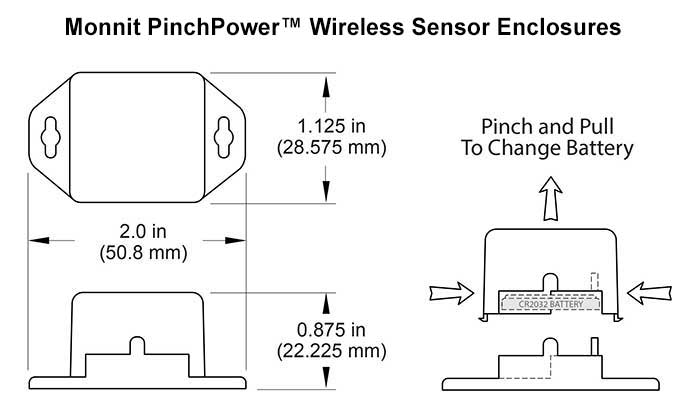 Contact us for volume quantity purchases of RoHS compliant product.
Suggested Application Uses for This Sensor
Current transducer monitoring
pH sensor integration
Dissolved oxygen sensor integration
Pressure sensor integration
Magnetic flow sensor integration