Product Description
The Monnit Wireless Duct Temperature Sensor uses an NTC type thermistor with UL listed plenum cable to accurately measure temperatures in duct work, while maintaining a sealed environment. Can be easily installed and mounted for long term use.
Product Features
Probe temperature range of -40°C to +150°C ( -40°F to +302°F )
Accurate to +/- 1° C (+/- 1.8°F)
User Calibrated Accuracy +/- 0.25° C (±0.45°F @ 77°F)
UL listed plenum probe cable
* Actual range may vary depending on environment.
** Battery life is determined by sensor reporting frequency and other variables.
What does this wireless sensor's data look like in software?
What's in the box?
Wireless Sensor
CR2032 - Coin Cell Battery
Mounting Hardware
Duct Temperature Sensor Specifications

Probe Operating Temperature Range
-40°C to +150°C ( -40°F to +302°F )
Accuracy @ 25°C
+/- 1° C (+/- 1.8°F)
User Calibrated Accuracy
+/- 0.25° C (±0.45°F @ 77°F)
Time Constant @ 25°C
30 sec
Cable Rating
UL listed plenum cable

Coin Cell Specifications

Battery Type
Replaceable 3.0V Coin Cell Battery
Dimension
1.775 in x 1.04 in x 0.785 in
Max Operating Temperature
-20°C to +60°C (-4° to +140°F)
Optimal Battery Operating Temperature (Coin Cell)
+10°C to +50°C (+50°F to +122°F)
Supply Voltage
2.0 - 3.6 V (Single CR2032 Coin Cell Battery)
Device Range
250 - 300 ft. non-line-of-sight device range*
Battery Life
At 1 hour heartbeat setting, coin cell battery will typically last ~ 1-2 Years. **
Enclosure Technology
Monnit PinchPower™ Wireless Sensor Enclosures
Enclosure Material
ABS

900 MHz Specifications

Operating Frequency
900 MHz Operating Frequency
Certifications
Complies with Part 15 of the FCC Rules. (FCC ID: ZTL-RFSC1)
Complies with Industry Canada standards. (IC: 9794A-RFSC1)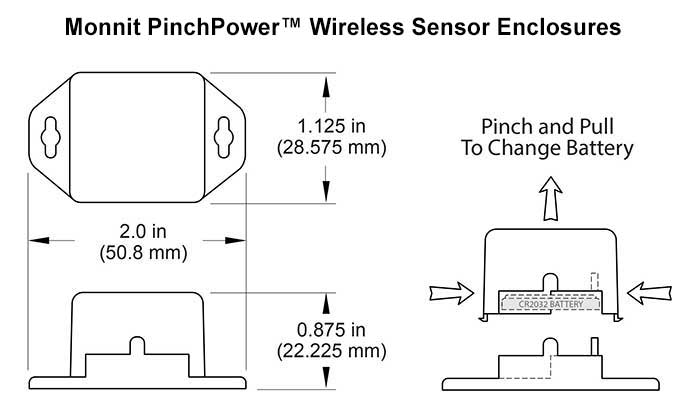 Contact us for volume quantity purchases of RoHS compliant product.
Suggested Application Uses for This Sensor
Air Duct Temperature Monitoring
HVAC Operation & Testing
Data Center Monitoring
Coolers & Freezers
Environmental Monitoring
Smart Machines & Smart Structures