Product Description
Monnit wireless water temperature sensor use a 3 foot external water sealed sensor probe to measure temperatures in water or non-combustible liquids. Perfect for monitoring temperatures in water storage tanks, pools, aquariums and natural wet-life environments. User customization allows you to set the frequency of readings and the ability to set conditions for text and/or email notifications from the system.
Product Features
Accurate to +/- 1°C (1.8°F).
Probe temp range: -40°C to +100°C (-40° to 212°F).
Water sealed, external temperature probe.
* Actual range may vary depending on environment.
** Battery life is determined by sensor reporting frequency and other variables.
What does this wireless sensor's data look like in software?
What's in the box?
Wireless Sensor
CR2032 - Coin Cell Battery
Mounting Hardware
Water Temperature Sensor Specifications

Probe Operating Temperature Range
-40°C to +100°C (-40° to 212°F)
Accuracy @ 25°C
+/- 1%
B-Constant (25°C – 50°C)
3380 ± 1%
Permissive Operating Current @ 25°C
0.38 mA
Rated Electric Power @ 25°C
15 mW
Dissipation Constant @ 25°C
1.5mW/°C
Time Constant @ 25°C
7 sec
Resistance @ 25°C
10K ± 1%

Coin Cell Specifications

Battery Type
Replaceable 3.0V Coin Cell Battery
Dimension
1.775 in x 1.04 in x 0.785 in
Max Operating Temperature
-20°C to +60°C (-4° to +140°F)
Optimal Battery Operating Temperature (Coin Cell)
+10°C to +50°C (+50°F to +122°F)
Supply Voltage
2.0 - 3.6 V (Single CR2032 Coin Cell Battery)
Device Range
250 - 300 ft. non-line-of-sight device range*
Battery Life
At 1 hour heartbeat setting, coin cell battery will typically last ~ 1-2 Years. **
Enclosure Technology
Monnit PinchPower™ Wireless Sensor Enclosures
Enclosure Material
ABS

900 MHz Specifications

Operating Frequency
900 MHz Operating Frequency
Certifications
Complies with Part 15 of the FCC Rules. (FCC ID: ZTL-RFSC1)
Complies with Industry Canada standards. (IC: 9794A-RFSC1)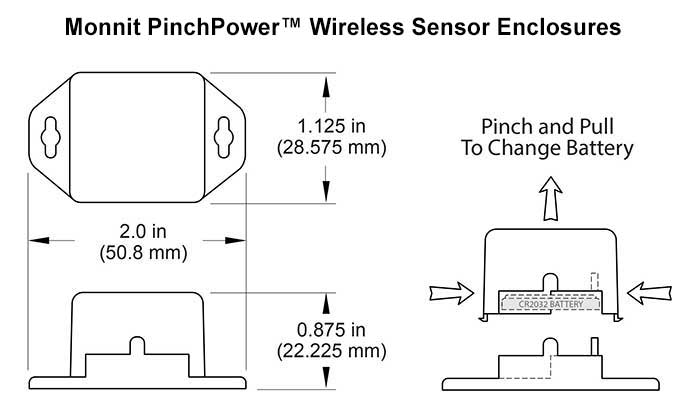 Contact us for volume quantity purchases of RoHS compliant product.
Suggested Application Uses for This Sensor
Water Tank Temperature Monitoring
Non-Combustible Liquid Storage Tank Temperature Monitoring
Liquid Manufacturing Process Temperature Monitoring
Pool Temperature Monitoring
Aquarium Temperature Monitoring
Wetlife Environmental Temperature Monitoring