Product Description
Monnit wireless water sensors alert you via SMS text and/or email when there is water detected, preventing potential property damage that results from flooding or leaks. Place this sensor anywhere flooding or faulty plumbing could cause a problem. This sensor can also be used to detect a lack of water, allowing you to know when a container is nearing empty.
An optional "Detect Plus" spot detection probe can be added to the end of the water detection wire. The spot detection probe can be positioned and mounted at a set distance above the ground eliminating false alarms.
Product Features
Senses immediate presence of water.
Can also sense non-presence of water.
Use for detection of any non-cumbustible liquid.
* Actual range may vary depending on environment.
** Battery life is determined by sensor reporting frequency and other variables.
What does this wireless sensor's data look like in software?
What's in the box?
Wireless Sensor
CR2032 - Coin Cell Battery
Mounting Hardware
Water Detect Plus - Wire End
Coin Cell Specifications

Battery Type
Replaceable 3.0V Coin Cell Battery
Dimension
1.775 in x 1.04 in x 0.785 in
Max Operating Temperature
-20°C to +60°C (-4° to +140°F)
Optimal Battery Operating Temperature (Coin Cell)
+10°C to +50°C (+50°F to +122°F)
Supply Voltage
2.0 - 3.6 V (Single CR2032 Coin Cell Battery)
Device Range
250 - 300 ft. non-line-of-sight device range*
Battery Life
At 1 hour heartbeat setting, coin cell battery will typically last ~ 1-2 Years. **
Enclosure Technology
Monnit PinchPower™ Wireless Sensor Enclosures
Enclosure Material
ABS

900 MHz Specifications

Operating Frequency
900 MHz Operating Frequency
Certifications
Complies with Part 15 of the FCC Rules. (FCC ID: ZTL-RFSC1)
Complies with Industry Canada standards. (IC: 9794A-RFSC1)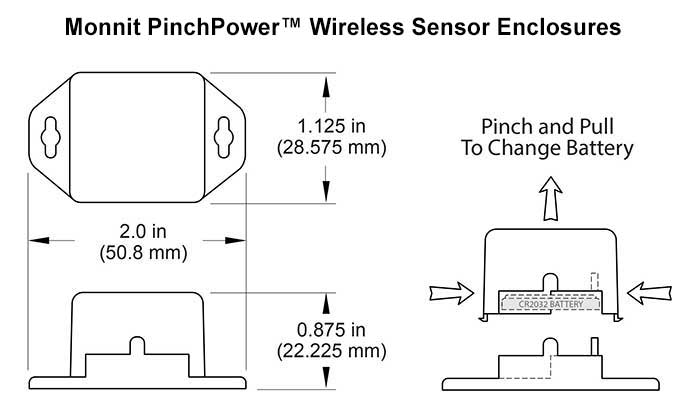 Contact us for volume quantity purchases of RoHS compliant product.
Suggested Application Uses for This Sensor
Hotel, motel and resort water heater leak detection
Residential and commercial water heater leak detection
Sink and toilet leak detection
Frozen or burst water pipe monitoring
Reservoir level monitoring
Sump and well monitoring
Basement water monitoring